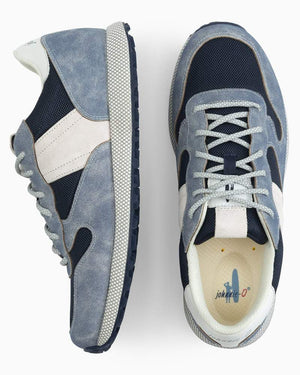 Johnnie O
Range Runner 2.0
Transition from the office to the golf course to the 19th hole seamlessly, without untying a lace or missing a beat.

The Range Runner fuses the grip, traction, and support found in spiked golf shoes with the flexibility and ground feel found in spike-less golf shoes to create an everyday cool casual classic trainer silhouette that strikes the perfect balance between performance and style.

Features a wider base outsole with proprietary Pyramid Golf traction cleats that offer outstanding stability, traction, durability, and green friendliness that still looks as cool as your favorite classic sneaks.

High cushion removable insole with massaging nodules molded in the forepart, a cushioning egg in the heel, and gel pods in the heel and forepart for maximum comfort, flexibility, and impact absorption.

Genuine classic athletic performance trainer construction with suede, full grain leather, and sporty mesh material details

Golf sneaker
Grip traction and support
Flexibility and ground feel

Remove the insoles and place in a delicates mesh bag. Toss your shoes and bag of insoles into the washing machine and set at the gentlest cycle with cold water and a mild detergent. When done, lay them all outside in the sunshine to airdry. When dry, put insoles back into place and enjoy.